David Forsyth
As a Mackay local, I have been involved for many years with various local sports both as a player and as a volunteer. A highlight for me was when I received a Life Membership from Mackay School Hockey in recognition of my contributions.
From my involvement in the sporting and business community I have seen the ever increasing dependence on online tools in our day to day activities. These tools can be of great assistance for developing client relationships but I believe that an Accountant must still retain the skill of being an effective communicator to fully enhance the ongoing relationship.
I have been a partner at Forsyths since 2002 and I am one of the two directors of the firm. I am also a Fellow Certified Practicing Account (FCPA).
From a tradie to a business director I have developed a great knowledge of business and formed strong relationships. My forte is in providing a range of taxation and accounting services to a diverse client base.
Frank Forsyth
I commenced full time employment with the firm in November 1976 and was admitted as a partner in 1979. I retired from the partnership in 2006 but am currently contracted with the firm as a specialist tax consultant.
I graduated with an Economics Degree in 1976 and have completed a Post Graduate course in Management in 1982. I have been a member of CPA Australia since 1977 and have recently become a Fellow. I am a registered tax agent and am also a registered company auditor.
---
 Ed Pace
Born in Mackay and raised on the family farm at Narpi, I attended the local state school and later Calen High. I completed my senior education at Abergowrie Agricultural College and returned to the farm. You could call me a true local.
When the farm was sold I went to work for the Commonwealth Bank. Then later me and my wife Lisa bought and operated the Park Store for several years before I took up a position with Forsyths in 1989/90.
I've always been a keen fisherman and a member of various clubs over the years and I still organize annual charter trips for friends. I am a current and long term member of  Mackay Golf Club and manage a round most weeks. I held the Treasurers position at the golf club for 6 years and although no longer a committee member I still take an active interest in the clubs operations.
My experience in farming, small business and finance enables me to empathize with a wide range of clients which is essential in a regional firm like Forsyths.
---
 Sarah Stiplovsek
I was born and raised in Mackay and joined Forsyths in December 2008 as an Undergraduate Accountant after completing year twelve at Mackay North State High School.
I chose to study my Bachelor of Accounting part time through CQ University whilst working full time, successfully completing my degree in 2014. I hold a Certificate 2 in Information Technology and deal with our internal computer systems as well as client accounting software.
I enjoy organising our staff socials and team building activities as well as traveling both in Australia and overseas. In my spare time I enjoy creating visual and graphic arts and crafts and spending time with my family and friends.
---
Stacey Eggleston
I started working with FORSYTHS in July 2006 originally as the receptionist but after many years of working here I have gained experience and skills which have facilitated my movement upwards in the ranks.
I have just finished my twelve month maternity leave and have returned to work with my one year old Hayley starting in daycare. I am looking forward to the challenges that being a working mum will bring. I am starting to look at how Forsyths can improve and implementing new processes in the changing and more challenging market.
---
Jenny Sullivan
I am a Mackay local whose parents owned a small cane farm. I started my school life in Sarina and later attended Mackay Central and Mackay State High School and then the Mackay College of Tafe.
I worked here in the office at Forsyths for a number of years before taking a break to be a mum.  I returned to Forsyths several years ago.
I am a member of the Australian Bookkeepers Network and Australian Conservation Foundation, and previously held a committee position with the Mackay Kart Club.
---
 Shawn Claydon
I am a Mackay local and I attended Christian Brothers College. After school I completed a Diploma in Science (Sugar Technology). I spent time working in both the Mulgrave Sugar Mill in Gordonvale and Marian Sugar Mill as a laboratory chemist.
For a change in career I decided to complete a Bachelor of Accounting at CQ University in 1995 and have worked in the Accounting Industry ever since, joining Forsyths in 2012.
I enjoy keeping fit and am a member of the local Mackay Road Runners as both a participant and Treasurer. I travel within Australia and overseas competing in various events ranging from 1500 meters up to the full marathon.
I have a broad client base and enjoy working with clients to achieve their tax objectives.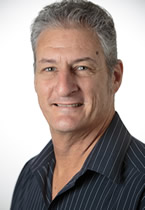 David Romagnolo
After returning to Mackay from Rockhampton with an Accounting Degree in hand I followed in my father's footsteps and joined Forsyths in 1987.
I became a CPA in 1993 and a partner in the firm 5 years later. I am now one of the 2 directors of the business and have recently attained fellowship status with CPA Australia.
I am married with 3 children and when not in the office I spend my time enjoying their company and playing or coaching basketball.
I enjoy working with my clients on improving their business and financial situations, specializing in taxation and business advice.
---
Robert Forsyth
Born and raised in Mackay, I attended Victoria Park School and Milton Street High School. I studied in Townsville then travelled and worked through many country centers in Queensland until returning to Mackay to take a position in the firm in 1982. I am a fellow of IPA, a tax agent and a fellow of the Institute of Financial Accountants (UK).
I am happily married with two children and have been heavily involved in community and sporting bodies and that interest continues today. I am an active lifesaver in the Mackay and Northcliffe (Gold Coast) surf clubs and have been heavily involved in administration roles, sporting events a dozen rescue and recoveries.
I have a keen interest in small business growth and development and ensuring clients develop an understanding of important financial decisions which will impact on their future.
---
Robyn Cooley
I moved to Mackay in 2007 after 15 years living and working in Mount Isa. Prior to putting down roots for this extended period of time, I had moved regularly around Queensland due to my father's occupation, attending school in such places as Karumba, Mount Isa, Gympie and Brisbane.
Having taught in high schools for nine years, I began my transition from education to business and accounting in 2004, obtaining my Accountancy degree in 2013.
Me and my husband (who have been unable to have children), have always had a strong connection with youth in the communities in which we live and currently find ourselves running a weekly youth group in Mackay.
Having lived in a variety of small rural and/or remote areas of Queensland, and valuing the experiences they provided, I take the approach that all clients should be treated as important regardless of the size or the locality of their business.  I see my role as educating clients to select the correct business tools for their circumstance and using these tools correctly in order to meet their business reporting obligations.  This approach has also been taken with the auditing of our not-for-profit clients too.
---
Nicole White
I was born and raised in country Victoria, moving to Mt Isa with my family in 1990.  While studying at JCU in Townsville from 1991-1993, I was heavily involved in cycling, competing in local and regional competitions in both track and road cycling.  I credit cycling and the cycling community with helping get me through those 3 years so far away from my family.
Since completing my Bachelor of Commerce, I've lived and worked in Townville, Tocumwal (NSW), Ayr and Mackay, finally settling down and starting a family in Finch Hatton in 2001.  I've worked for Forsyths since 2000 with a break from 2004-2010 while I enjoyed being a full time mum to my 2 children.
I enjoy being involved in the community. Over the years, I've been treasurer of my local Little Athletics club, local C&K Kindy, my local school P&C, and am currently treasurer of the Mackay Community Garden and also the Pioneer Valley Agricultural Show Society.
---
Rebecca Watkins
I came to Australia as a backpacker and loved it so much that I stayed. Working in Longreach in an accountancy practice I obtained permanent residence. I then went on to work in the Sunshine coast in a busy practice and came to Mackay in 2013.
You could say I am a "pom" but with a love of rugby, a good singing tone and supporting anyone that beats England in any sporting event you would more likely identify that I am Welsh. I am also a Forsyths resident Chartered Accountant.
I am recently a first time mum and Jake is growing up so fast. I have worked full time from home up until the day before his arrival and from the 18 weeks maternity leave. I attend the office frequently and have started training Jake as an accountant already.
I have had experience in a wide range of businesses from large council audits, primary production business and larger retail businesses. Actively helping small business increasing their capabilities and achieve sustainable growth and helping managers with tough decisions in the tough market is a priority of mine.
---
Bonnie Beckingham
Born and raised in Mackay, I attended Mirani High School until last year, leaving in year 11 to extend my learning in certificates 2 & 3 in business which I have now completed. I am now studying my Diploma in Business and Human Resources which I thoroughly enjoy.
I am very involved with Mackay netball, coaching, umpiring and playing representative indoor and outdoor netball. I have an interest in always learning new things to brighten my future.
I have been the friendly face of the front office at Forsyths since October 2014. When you ring through to the office you will normally hear my voice on the other end and I am always eager to help with any administrative issues you may have.